Il ne faut pas se voiler la face. Tout du long, les Electric Prunes ont moins été un groupe qu'un concept. Le joujou de leur producteur Dave Hassinger à vrai dire. Et le gars fourmille d'idées. En plein boom garage, il engage deux songwriters, Annette Tucker et Nancie Mantz, qui fourniront presque à elles seules, deux albums entiers de primitives
rengaines dont le hit "I Had Too Much To Dream Last Night" qui assoira une certaine notoriété.
Il faut changer de cap? Soit, on fait appel à David Axelrod et Hassinger embraye sur une messe grégorienne grandiloquente sans queue ni tête mais parvient néanmoins à placer un titre dans le cultissime "Easy Rider". Reste que le disque comprenait encore une poignée de musiciens du groupe originel. Car le collectif à géométrie variable, dont les parties importent moins que le tout, change perpétuellement et lorsque "Release Of An Oath" est publié, pas un seul membre ne passe la porte du studio.
Sous-titré "The Kôl Nidre", expression de la culture juive, le quatrième album est un miracle. Axelrod s'est entouré d'immenses musiciens de session ( vous pourriez passer votre journée à éplucher le cv de Carol Kaye ou Earl Palmer) pour assurer les partitions de ce monumental popéra baroque. Tandis que les cordes et les bois virevoltent, une
orchestration typiquement rock balaie tout sur son passage.
Une fois de plus la batterie foudroie : "Kôl Nidre", l'instrumental "General Confessional" ou "Holy Are You" (et sa phénoménale partie de guitare) se sont révélés être un paradis pour les beatmakers. La basse est énorme et la prise de son dantesque. David Axelrod aiguise ici son talent d'arrangeur et de recruteur (ses propres diamants, "Song Of Innocence" et "Songs of Experience", sur le point de voir le jour, seront mis en boîte par la même équipe). Cette fois, la messe est vraiment dite et cela, en 24 petites minutes à peine…
M.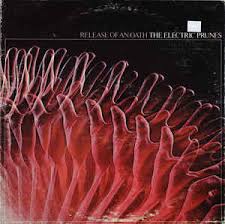 The ELECTRIC PRUNES
"Release Of An Oath"