Joe Henderson est un as. Une ascension débutée chez Blue Note où,
parallèlement à ses propres albums, il joue les jokers de luxe aux côtés de Lee Morgan, Andrew Hill ou Herbie Hancock. Mais c'est surtout sa participation à l'incroyable "Basra" de Pete La Roca qui retient tout
mon souffle. Faites le test, il y sublime chaque recoin. Une pige chez Alice Coltrane plus tard sur "Ptah, The El Daoud" (où il croise le fer
avec Pharoah Sanders), il boucle cette première partie de carrière
déjà plus qu'honorable, avant un passage chez Milestones qui le
verra tutoyer les cimes.
Un peu plus encore, sa conscience politique s'affûte ("Pursuit Of Blackness"), son jazz se pare de subtiles expérimentations ("Black Is
The Color"), son horizon s'étend ("Canyon Lady"), il décortique les
arcanes du monde ("Elements" avec Alice Coltrane) et décuple ses
efforts sur le protéiforme "Multiple", disque qui, comme sa pochette le suggère, revêt tous ses visages.
Soutenu par David Holland, Jack DeJohnette et Larry Willis, il
livre tout du long une prestation tout bonnement époustouflante.
De l'irrépressible groove de "Turned Around" ou de "Tress-Cun-Deo-La" lézardé par la guitare de James Blood-Ulmer, de la richesse de "Bwataa" à l'intrépide et miraculeux "Song For Sinners", le jeu et le grain de Henderson sont souverains. Tout ici brille de mille feux et on n'est pas prêt d'en avoir fait le tour.
M.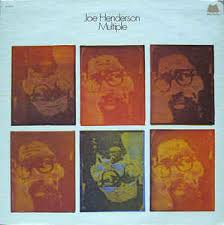 Joe HENDERSON
"Multiple"