Quand on parle de funk débridé, explicitement sexuel et pourtant
ouvertement féministe, le premier nom évoqué sera certainement
Betty Davis. L'indomptable tigresse qui aura mis Miles à (ses) genoux,
pourtant pas réputé pour être le plus facile à apprivoiser des
gaillards du quartier. On aurait tort de se priver de la discographie
de la souveraine Nasty Gal.
Mais nous discuterons plutôt du cas Yvonne Fair. Aperçue au sein des Chantels, modeste formation doo-wop, la demoiselle sera débauchée
par la James Brown Revue et plus intimement par son ogre de leader.
Sa carrière aurait pu tourner court si une signature chez Motown
bien des années plus tard ne la remette brièvement sur les rails. Mais
le voyage ne fut pas vain…
Cette pochette déjà… Bon ok, qui a bien pu cautionner ce cadre orné
de bonbons, de pilules et de ce qui ressemble assez vaguement à un
rouleau de pq ? Mais ce regard qui en dit long… Clairement, le fouet n'est pas pour elle : "Et ouais, ce disque va te museler mon petit gars".
Et dès l'intro, cette petite guitare aguicheuse se fait mater par la dame qui déboule, intraitable… Pressez play, vous comprendrez sur-le-champ
où je veux en venir. Son phénoménal "Funky Music Sho Nuff Turns Me On", joue jeu égal avec la version d'Edwin Starr, c'est dire.
Il faut entendre cette façon de régler son compte au malheureux qui a osé la contrarier à l'entame de "Walk Out The Door If You Wanna" avant de littéralement envoyer le morceau dans la stratosphère. C'est un peu ça ce disque, cette capacité qu'elle a de traverser les morceaux et de les exploser au passage. Un solide classique funky. Restera son épitaphe, cette singulière interprétation caressante de "It Should Have Been Me", son seul hit, au titre tristement prophétique.
M.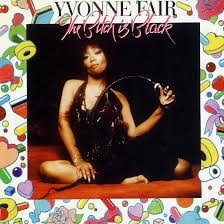 Yvonne FAIR
"The Bitch Is Black"