En parlant d'amour…
Kevin Ayers a tout du demi-dieu. Un univers, un charisme, un timbre
obsédant, un sens absolument inné de la chanson, des albums
fabuleux et bien sûr une reconnaissance populaire éternelle. Pardon?
Ça non? Attendez, non, on me signale que non..
Démarrée avec Soft Machine, la carrière de Kevin Ayers est pavée
de ritournelles diaboliquement exquises, qu'il prend souvent soin
de chiffonner un peu. Histoire qu'on les mérite en grattant bien,
allez savoir… "Joy As a Toy", "Shooting At The Moon" et "Whathevershebringswesing" sont d'indéboulonnables bijoux. Mais "Bananamour" est, comment dire, juste magistral(ement à mon goût).
"Don't Let It Get You Down" qui ouvre le bal semble issue d'une
session oubliée de "Sgt. Pepper", "When Your Parents Go To Sleep"
est le meilleur exemple d'une blue-eyed soul acidulée (si cela avait
été inventé), la berçante "Hymn" est partagée avec Robert Wyatt
et "Decadence" est le prototype de tout ce que Spacemen 3 fera
lanciner des décennies plus tard.
Tout carillonne, pétille, submerge…
"Oh. Wot A Dream"…
M.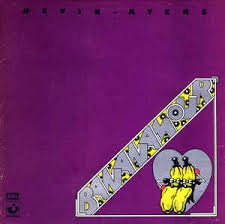 Kevin AYERS
"Bananamour"