Croyez-le ou non, cette suggestion m'était chère mais pas à l'ordre
du jour. J'avais sous le pied, dans cette humble chronique qui agite mélodieusement mes méninges, deux ou trois escales encore dans
ces déambulations qui n'appartiennent qu'à moi.
Mais voilà, un sms de Vinz plus tard, autant se rendre à l'évidence,
va falloir bouleverser le calendrier mental parce que certaines
affections ne souffrent d'aucun doute et que le large siège qu'occupait Bill Withers dans mon sanctuaire est désormais vacant.
S'il ne m'en fallait qu'un, ce serait son deuxième. Ah, le groove
de "Use Me", les guitares blaxploitation de "Who Is He?",
l'intro sooo funky de "Kissing My Love" et l'universalité
de "Lean On Me" dont les premières mesures résonnent:
"Sometimes in our lives we all have pain
We all have sorrow
But if we are wise
We know that there's always tomorrow".
"We all need somebody to lean on". Ça marche aussi avec les disques.
Celui-ci s'appelle "Still Bill" et interprétez-le comme vous le voulez,
il portera toujours bien son nom.
M.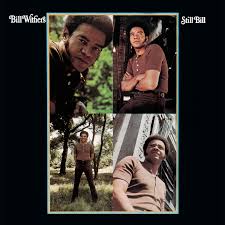 Bill WITHERS
"Still Bill"