Dan Treacy est un sacré coco. Un sérieux penchant pour la gaudriole, poivrot, camé, taulard à l'occasion mais surtout un putain de
songwriter. Du genre à plier 15 tubes sur 14 chansons. Sans effort.
Après une palanquée de singles dans le plus pur esprit do-it-yourself,
les Television Personalities trouvent refuge chez Rough Trade,
magasin et label autodidacte aussi minuscule que passionné.
L'égérie Twiggy et John Steed (le chapeau melon sans ses bottes de cuir) ornent la pochette de "… And Don't The Kids Just Love It",
premier album de la bringuebalante discographie de nos Londoniens neo-psych. Bouleversé par le punk, Pistols et Modern Lovers en tête, mais loin d'être dupe, comme en atteste le single révélateur "Part Time Punks", Treacy refusera obstinément tant les étiquettes que le succès.
Ce disque a pourtant tout du classique instantané. Des petites
vignettes chancelantes propres à faire chavirer de bonheur les
amateurs d'une pop lo-fi aussi goguenarde que jouissive. Et une
façon d'encrasser le son, certes tout autant la marque d'une
approximation néophyte que d'un postulat aquoiboniste. Pragmatique ou génialement modeste, leur troisième lp ne s'appelait
pas "They Could Have Been Bigger Than The Beatles" pour rien.
L'introductif "This Angry Silence", les implacables "This Glittering Prize", "Silly Girl", ou "La Grande Illusion" (ce cri du cœur "I Just Don't Know What To Do…") et les exquis "Diary Of A Young Man" et "I Know Where Syd Barret Lives" et son hilarant coup de gueule sur les oiseaux qui ne cessent de gazouiller. C'est cinglant, immédiat, dansant (sur un pied), avaient-ils leur égal pour trousser pareils manifestes ?
M.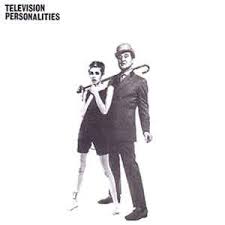 TELEVISION PERSONALITIES
"… And Don't The Kids Just Love It"