Jeffrey Lee Pierce est un héros. Incandescent, flamboyant, cintré
du ciboulot, expédié en enfer par la grande porte beaucoup trop
prématurément. Bien plus tôt, Jeffrey était un fan, un gamin qui
idolâtrait Blondie, le punk, le blues et la country et qui grattait le
papier dans des fanzines modestes. Quelques accords en poche
plus tard, il part au charbon sans aucune retenue. Et durant toute
sa carrière, on pourra ressentir qu'il portait son legs comme
certains portent leur croix.
The Gun Club déjà. Tout un programme. Puis on lit "Fire Of Love" (du nom du titre culte de Jody Reynolds, qu'ils reprendront sur l'album
suivant). Tout cela mis bout à bout, forcément, ça ne pouvait que
décaper. Comme il se doit, l'album est foudroyant. D'entrée de jeu,
"Sex Beat" terrasse. Du swamp punk fangeux déguisé en blues que chante un Jeffrey écorché, à la manière de ces fameux outlaws
cramés de la country qu'il révère.
Et le blues, parlons-en. Le groupe revisite Tommy ou Robert Johnson,
la guitare slide dérape, les percussions, tribales font remonter à la
surface chaque fantôme des bas-fonds, ça racle dangereusement.
Une belle bande de bras cassés jetés corps et âme dans leur prêche.
Du tourbillon "She's Like Heroin To Me", à "For The Love Of Ivy",
qui voue son culte à la vénéneuse déesse des Cramps, tout ici exhale
une authenticité ombrageuse et rédemptrice. Et c'est juste beau.
M.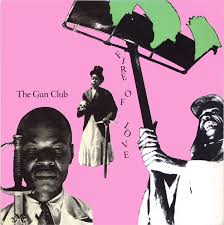 The GUN CLUB
"Fire Of Love"