Millie Jackson a vendu des camions entiers de disques. Trois de ses
albums sont certifiés or. Elle n'est pourtant définitivement pas
chouchoutée du grand public, matraquée par les radios, encensée par
les livres d'histoire. La faute peut-être à une carrière qui a eu la fâcheuse tendance à flagorner les pistes de danse, à s'éparpiller sur
les années 80 ou à l'une ou l'autre des plus vilaines pochettes d'une
période plutôt féconde en la matière (Back To The S..t, 1989, un must…).
Pourtant, avec "Caught Up", la chanteuse et les musiciens de studio
de la Muscle Shoals Rhythm Section, machine de guerre de l'Alabama, pondent une pépite, régulièrement célébrée. A juste titre, tant cet
album concept qui suit le fil d'une relation extra-conjugale et
conjugue le point de vue de la maîtresse et de la femme bafouée,
est un miracle de cohésion. De la première à la dernière note, toute la trame repose sur un savant dosage entre musicalité et sens
de l'écriture.
La production est monumentale, dans la droite lignée de
"Hot Buttered Soul" ou "Movement" de Isaac Hayes, avec qui elle
collaborera par la suite. Mais que dire de la prestation de Millie,
qui plaque là un mélange assez inédit de passion explosive, de détresse contenue et de spoken word. Certains prétendent entendre dans ce phrasé si caractéristique, les prémisses du débit du hip-hop. Pas loin de deux cent samples de ses chansons répertoriés ont en tous cas tendance à confirmer l'influence de la dame sur toute une
génération nourrie au break et au flow. Si ça, ce n'est pas de
la reconnaissance.
M.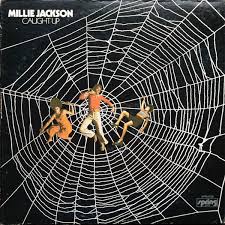 Millie JACKSON
"Caught Up"