Au crépuscule des années soixante, le blues vit une énième jeunesse
et l'Angleterre, qui n'en est assurément pas le berceau, lui rend
pourtant l'un des plus fier tribut. Mais s'il a surgit de la complainte
et du souffle de liberté, celui des jeunes angliches, de Free (Tons Of Sobs) aux Groundhogs (Blues Obituary), de John Mayal (Blues From Laurel Canyon) à Savoy Brown (Getting To The Point), s'encrasse et s'alourdit d'un cran.
Et puis viennent les freaks… Ceux, exaltés, qui trempent leur plume
et leurs gosiers dans l'acide. Un bataillon de jeunes hirsutes qui
n'envisagent la vie que comme un périple frénétique et libertaire.
Et qui le font savoir. Deviants, Pink Fairies, Stack Waddy ou nos héros du jour, Edgar Broughton Band. Les gaillards jouent partout, dans les rues, les parcs, les cours d'école ou en marge des festivals, histoire de bien faire fulminer les acteurs de ce qu'ils estiment être l'ordre établi.
Sur "Wasa Wasa", leur premier album, ces agitateurs marginaux ne simulent pas. Les amplis surchauffent, ils gobent le blues comme le L.S.D, le rincent, le recrachent à la face du monde et le piétinent un dernier coup, des fois qu'il en reste. Partout, la rage d'Edgar est aussi rocailleuse que sa voix, à mi-chemin entre Captain Beefheart et Howlin' Wolf, implacables modèles.
"Death Of An Electric Citizen" atomise, "Why Can't Somebody Love Me" et "Love In The Rain" débordent de fuzz. C'est heavy, psyché et sans concession. Les effluves de la contre-culture prennent d'ailleurs plus d'une fois le pas sur la raison comme sur cet "American Soldier Boy", éloquent à plus d'un titre. Mais aucun débordement ne déviera ce disque de son but premier. Galvaniser jusque dans les derniers
retranchements.

M.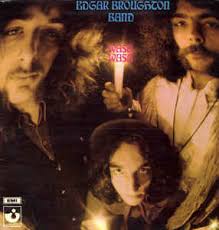 EDGAR BROUGHTON BAND
"Wasa Wasa"