A force de parler de guerre, il fallait bien que ça arrive:
Un disque tout entier dédié à la paix et l'amour…
Ras Michael est un vrai rastafari. Né, grandi et éduqué dans la foi
de Jah et au rythme des vibes de Zion. Son groupe, les Sons Of Negus,
est reconnu pour ses tambours et ses chants rituels Nyabinghi, l'un
des piliers de la culture rasta. Une ode percussive et chaloupée à
la tradition et aux racines africaines.
Sa longue discographie s'amorcera par pas moins de trois albums,
rien qu'en 1974. les déjà impeccables "Nyabinghi" et "Freedom Sound" signés par le groupe et cet enivrant "Peace and Love" prêché par Dadawah, alias à usage unique pour un album sans pareil. Quatre longues complaintes, empreintes d'une insondable spiritualité.
Le temps n'a plus cours tout au long des ces impulsions organiques
et de ces harangues vouées à propager un message de liberté
et de dévotion. "Run Comes Rally" est si fervente, la basse de
"Seventy-Two Nations" est mortelle, la guitare de "Zion Land"
carrément psyché et c'est bien là tout le sel de l'histoire :
rarement un disque n'aura été aussi high et aussi deep à l'unisson…
M.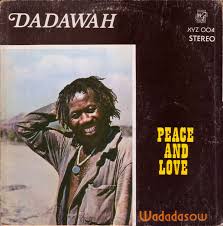 DADAWAH
"Peace and Love. Wadadasow"